About Us
Founded in 2016, Invisible Paw Prints is a 501(c)(3) non-profit organization. Our board members, staff, and members are all volunteers. IPP therapy dog teams visit hospitals, retirement homes, hospice, personal homes, children hospitals and even correction facilities and the list goes on! We find joy in giving back to our communities in such a wonderful capacity with animal assisted therapy.
FOUNDED in 2016
Founded in 2016, Invisible Paw Prints was created to bring volunteers along with their canine companions to provide animal assisted therapy to various communities throughout the United States. Invisible Paw Prints is a 100% volunteer organization. Nobody is paid a penny.
MISSION STATEMENT
Invisible Paw Prints, Inc., is an organization led by compassionate volunteers who use their canine companions to provide heartwarming visits in support of local community organizations.
VISION STATEMENT
Become the called-on organization to provide therapy dog assistance to various communities throughout the United States today, tomorrow, and into the future.
Our Board Members
Tucker Summerville
Retired Surgical Technician
Tucker Summerville is a native North Carolinian. She is the mother of four children, eight grandchildren, and six great grandchildren. Her professional career covered 18 years in the operating room, 12 years of banking experience, and 15 years in healthcare. Tucker has volunteered with her therapy dogs for almost 30 years in the Charlotte area, and has registered a total of ten of her own therapy dogs: Sam, Stella, Nancy, Surfer, Crickett, Windi, Hadley, Mardi, Shelli, and Charlotte. Tucker devotes her time to see the pet therapy program grow and to bring love, encouragement, and emotional support to people of all ages and stages of life.  
Chantelle Hurst, Board Chair 
Director of Human Performance, Duke Energy 
Chantelle Hurst is originally from Dallas, TX. Chantelle holds a Bachelor of Science in Nuclear Engineering and has worked in the nuclear and electric industries for over 15 years while holding various positions in engineering, maintenance, operations, and human performance. It is rare to find Chantelle without a canine companion by her side. Her first therapy dog was Cody, who passed away in 2019. With two Bernedoodles, Finn and Maya, Chantelle continues to give back to her community to bring all of the benefits a therapy dog provides. 
Karen Chapman
Attorney, Poyner Spruill, LLP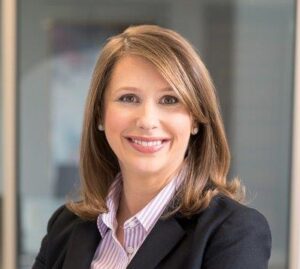 Karen Chapman grew up in eastern North Carolina and went to UNC-Chapel Hill for both undergrad and law school. Prior to law school, Karen worked full-time in several non-profit organizations, which were primarily focused on helping troubled youth, and also served as a volunteer Guardian ad Litem for children; she has continued to actively serve her community through volunteer work and service on non-profit boards. Karen knew early on that her mini-goldendoodle, Cosette, had the right temperament to be a therapy dog and loves seeing the joy that Cosette brings to all who encounter her.
Brandi Hobbs
Director of Operations & Process Improvement, Offit Kurman
Brandi Hobbs has served a number of professional services firms in various capacities, most recently focusing her work on process improvement, project management, and operations. Her background in marketing and focus on consumer experiences have contributed to her value as an IPP Board Member. She has lived in Charlotte with her family since 2017. Brandi has two pups, Marabou and Rocky Road, and though neither is currently a therapy dog, she sees the joy they bring as affirmation of the invaluable service IPP members bring to the local community. 
History
Founder Rob Kortus, a retired Coast Guard helicopter pilot and certified professional dog trainer had a vision to create a therapy dog testing and registry non-profit in 2016 after writing a book (Invisible Paw Prints) about his border collie Sophie and her therapy dog work in the Charlotte, NC area and the wonderful people Sophie encountered. Hence the non-profit name today, Invisible Paw Prints.
Invisible Paw Prints was incorporated in 2017 and today, the IPP volunteer members and their canine companions visit 100 plus organizations to bring smiles and joy to many of those who need it. IPP therapy dogs will leave behind no paw prints, only trails of human smiles, happiness, hope, and love.